a table of mexican woods
december 6, 2014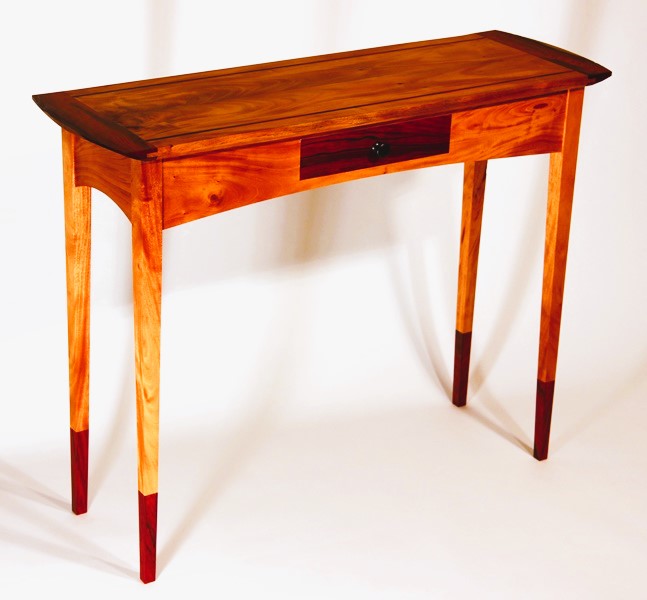 we really like traveling to mexico and have been to most of the mexican states over the years. having friends that were living at the time in the mountains east of mazatlan, a visit with them gave us an opportunity to explore the jungle and villages of the area.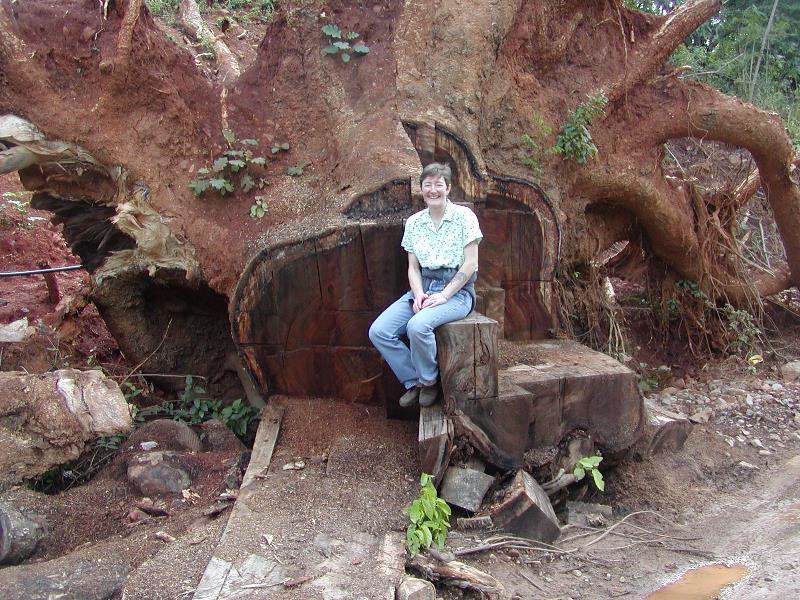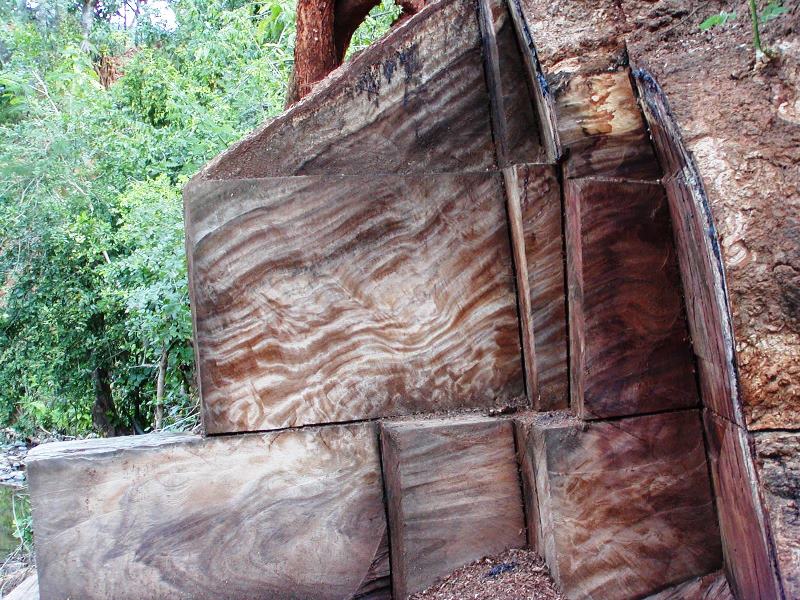 always having my eye out for some exotic woods, i thought it might be possible to collect some pieces and bring to them home for a small project. at first this enormous guanacaste tree, blown down in a hurricane, caught my attention on one of our hikes. some enterprising local mexicans had already done some sawmill work (without even hauling it off to the mill), but having neither chainsaw nor someone to cut for me, i had to bypass this opportunity in search of something easier to obtain.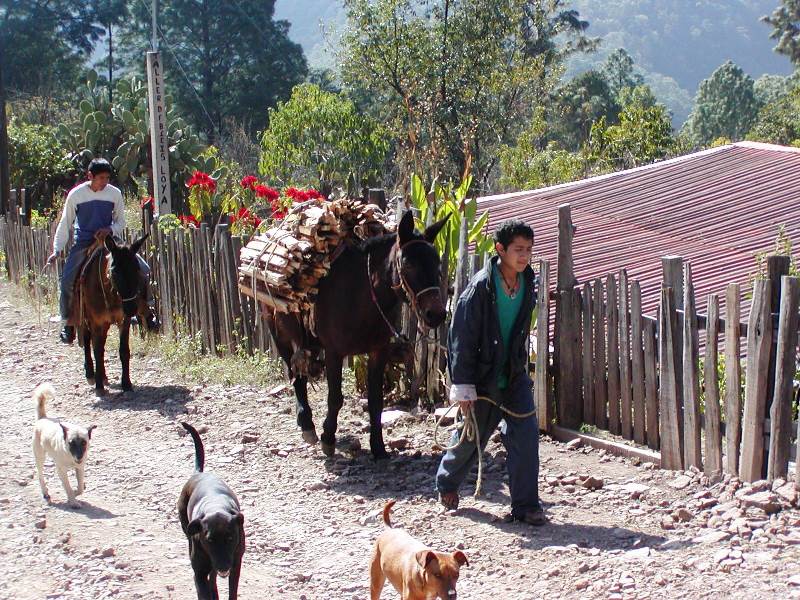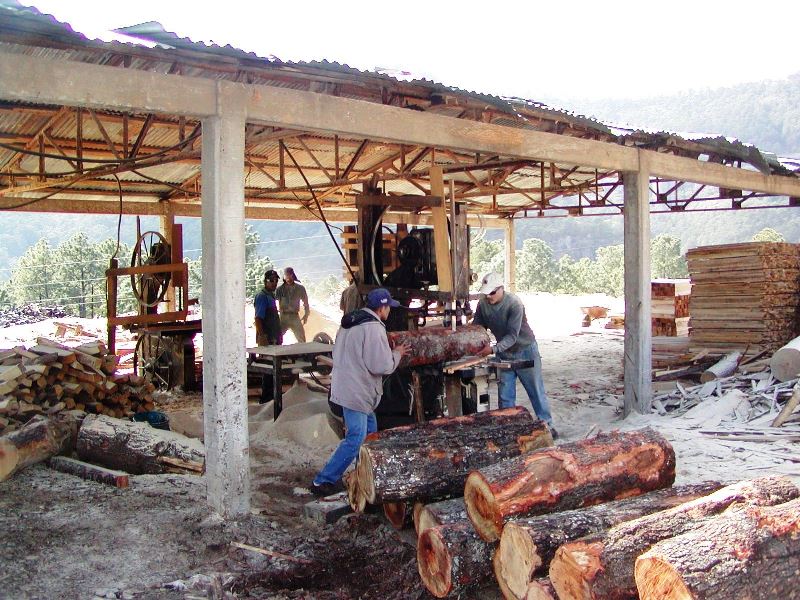 hearing of a nearby sawmill from some of the locals, we followed them down a trail and found a bandsaw mill sawing up some local hard woods. some sort of figured local oak it looked to be, so i picked up a couple of pieces to bring back home with me.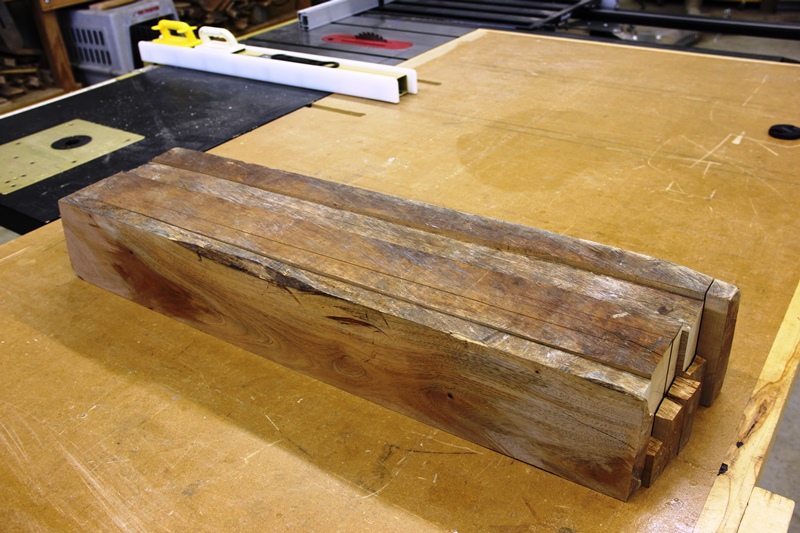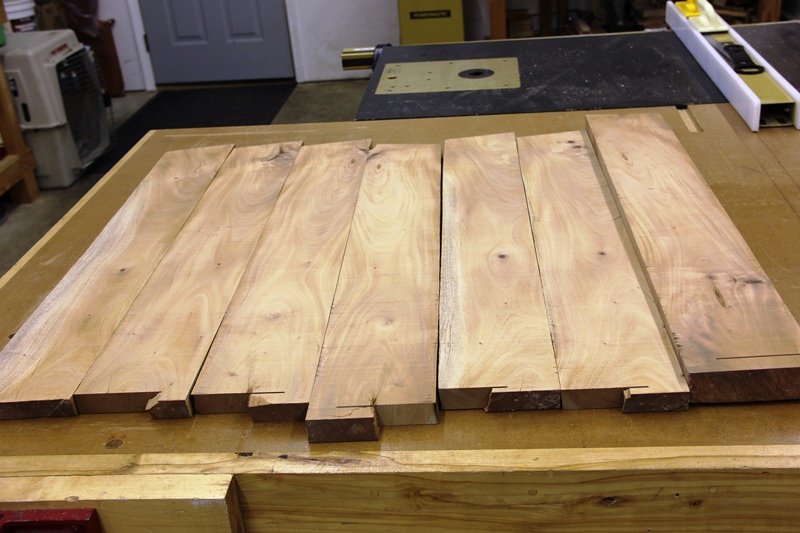 there are many small furniture shops in the inland area around mazatlan, mostly using spanish cedro (not a true cedar, as it is a fairly hard wood) to craft furniture that is then usually only sold in mexico. i was able to acquire a rough sawn piece of cedro from one of these shops (thanks dona, for all the translating), about 4' long by 14" thick and just checked it as a separate piece of luggage on the flight home. resawing on the bandsaw at home reveled plenty of figure. this was going to be another project ( like the claro walnut desk ) that would be built out of a single board, as i wouldn't be going back to mexico to pick up more cedro. i did a plan for a small table in sketchup that would fit the rough pieces of wood that i had to work with. having also on hand some mexican cocobolo to use as a contrasting wood, my intention was to build the table completely out of mexican lumber.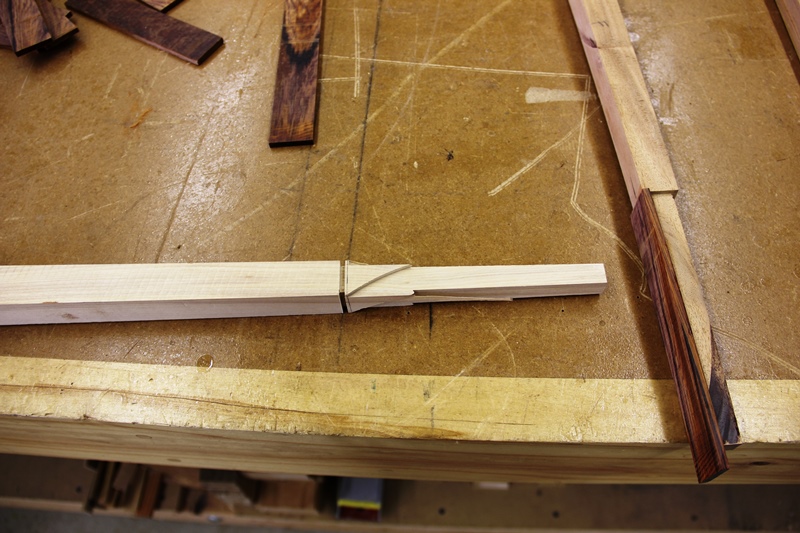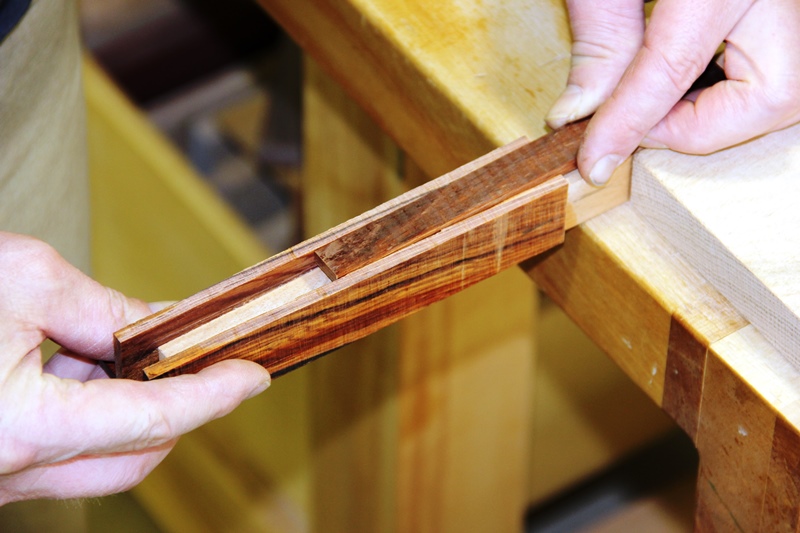 i watched a video of garret hack building a small side table that he embellished by adding some ebony socks to the leg ends -- jazzing them up, as he called it. never having tried this myself, i thought it might help the look of my mexican table to try the technique with some cocobolo (ebony is too precious for my tastes).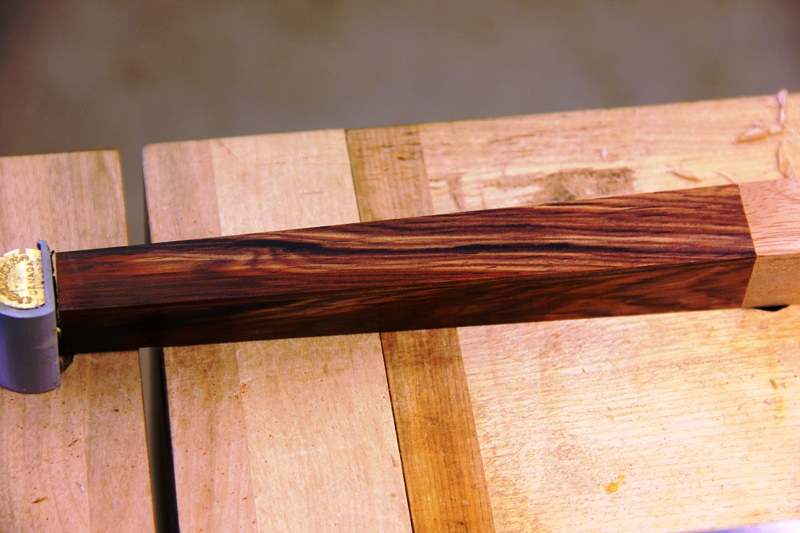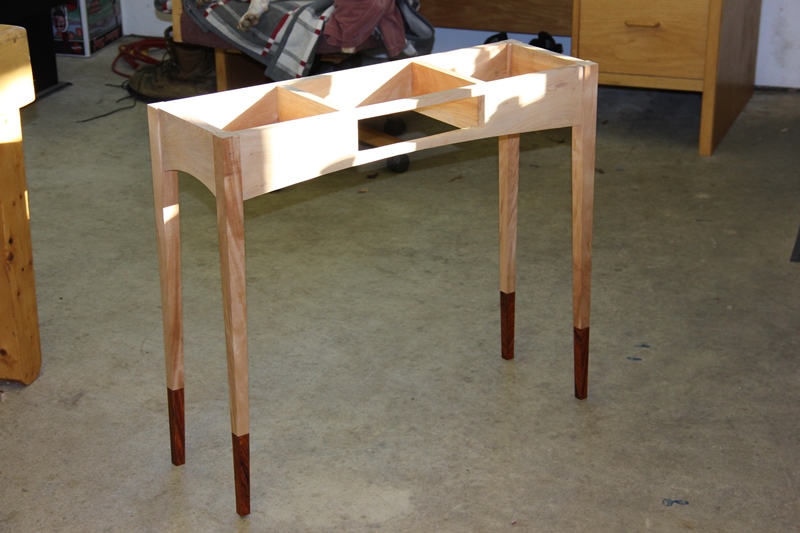 the leg construction was pretty straightforward, but it certainly helped that i selected the cocobolo to be very straight grained (as mentioned by garret), because there was a lot of hand planing involved while fitting and gluing the pieces to the legs. the finished table carcass was glued up, with hardly a piece of cedro left over (other than what was needed for the top)-- just enough.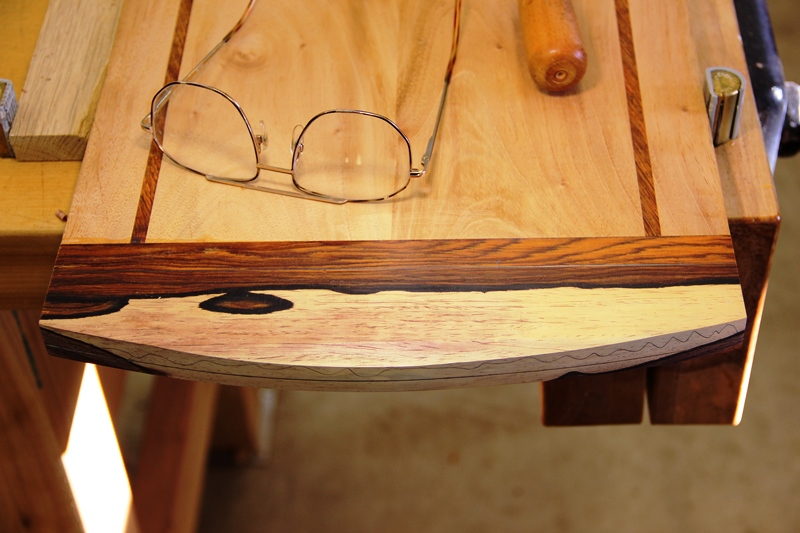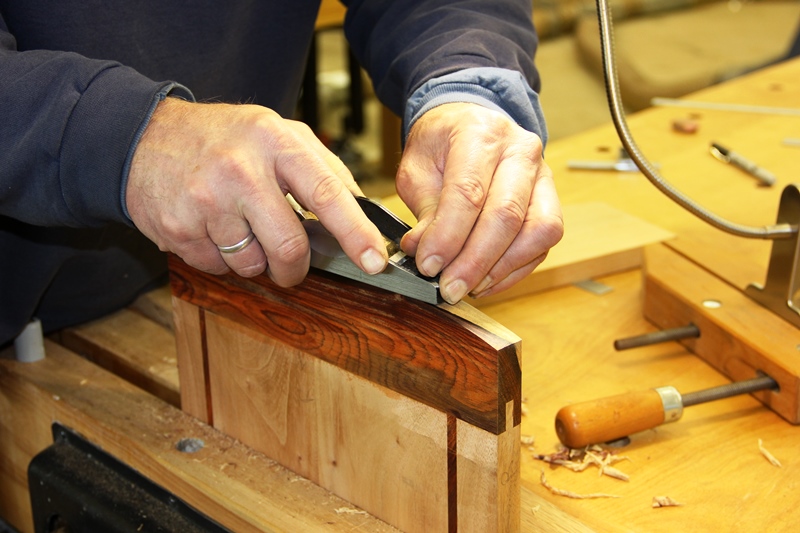 for the table top, i laminated three pieces of cedro along with a couple of narrow strips of cocobolo lengthwise and then bread-boarded the ends with single pieces of more cocobolo. the ends were then hand planed down to give a respectable bevel on the underside and a pleasing arc on the outer edges.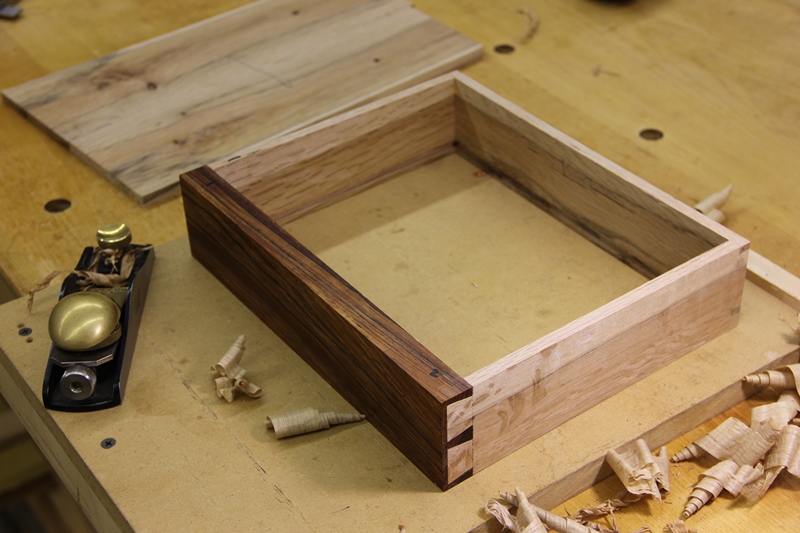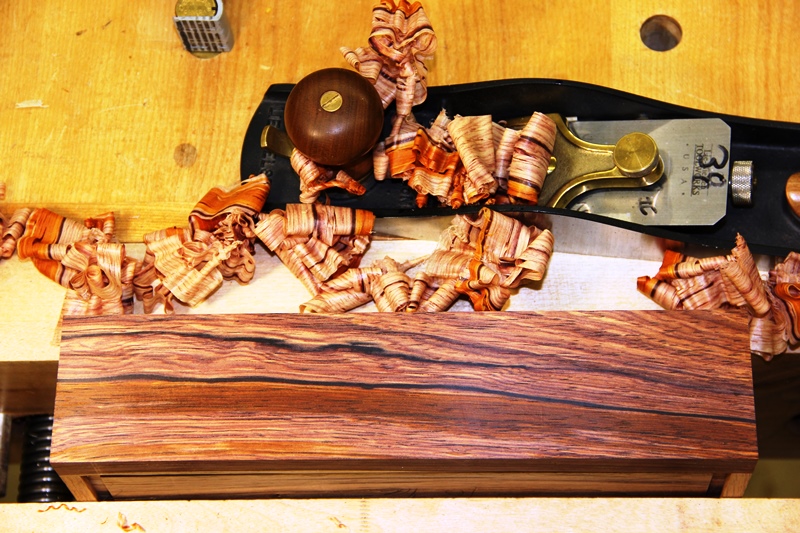 for the drawer sides and bottom, i chose the other wood that i picked up from the sawmill in mexico. it made for a rather for the drawer sides and bottom, i chose the other wood that i picked up from the sawmill in mexico. it made for a rather heavy, but very sturdy drawer and the hand-cut dovetails were very crisp.using more cocobolo for the drawer front, i was again amazed at how beautiful this wood is when hand planed. even the shavings are stunning in color variation and very aromatic with scents of cinnamon and roses.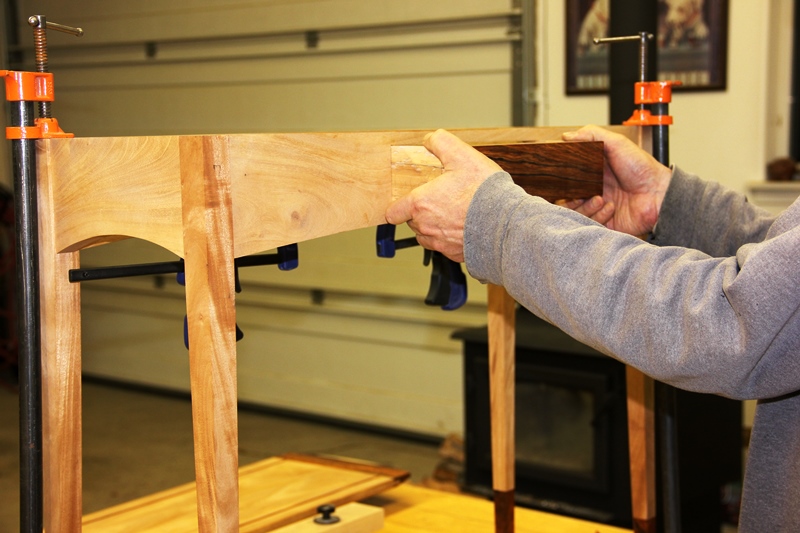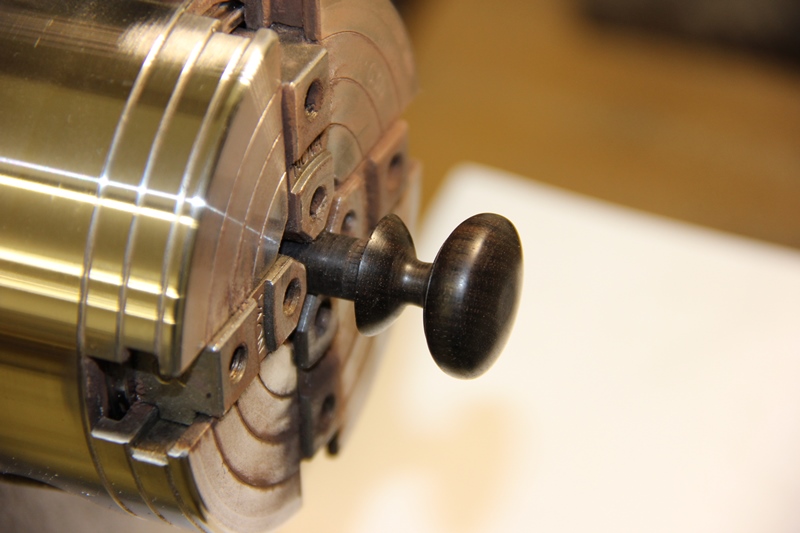 after the fitting the drawer, i created a small knob out of ebony on my lathe. the dark black color of the knob gave a good contrast to the rest of the table.