Walnut Table for Fourteen
Posted February 17, 2016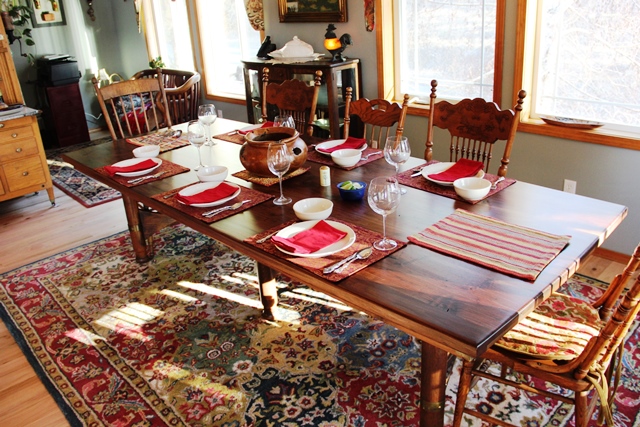 Friends called on me to enlarge the base and build a new top for an antique leaf table that had been in their family for many years. Originally of oak, the top was very worn and they were looking to replace it with a large, single, solid walnut glue-up instead of shuffling the leafs on and off as required. The base would mostly remain the same, but be modified to remove all of the sliding rails for the leafs and then two new, fixed parallel aprons would be added to attach the center legs and top to.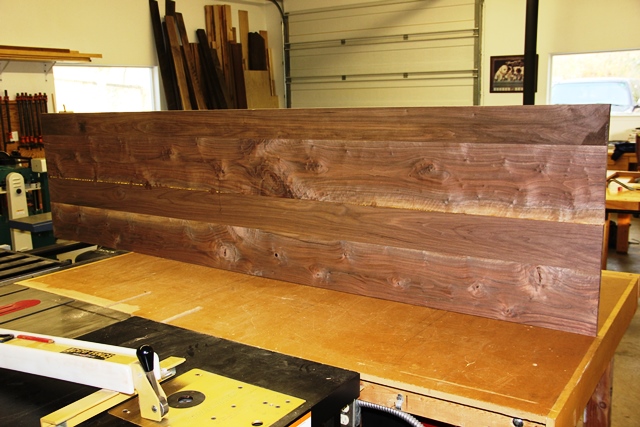 This was to be a very large table top of over 9' long by as much as 48" wide finished size. I had to search far and wide for some black walnut boards of sufficient thickness, uniform color, and straightness that could be milled, joined, and otherwise coerced into a large single piece.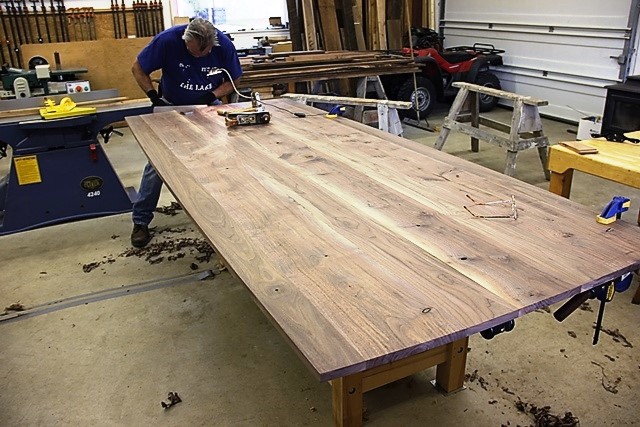 After glue up, I decided to add a slight arc to both the sides and ends to soften the rectangular look of the finished top. The arcs are traced from a long batten and then cut with a jig saw. Final smoothing is done with hand planes.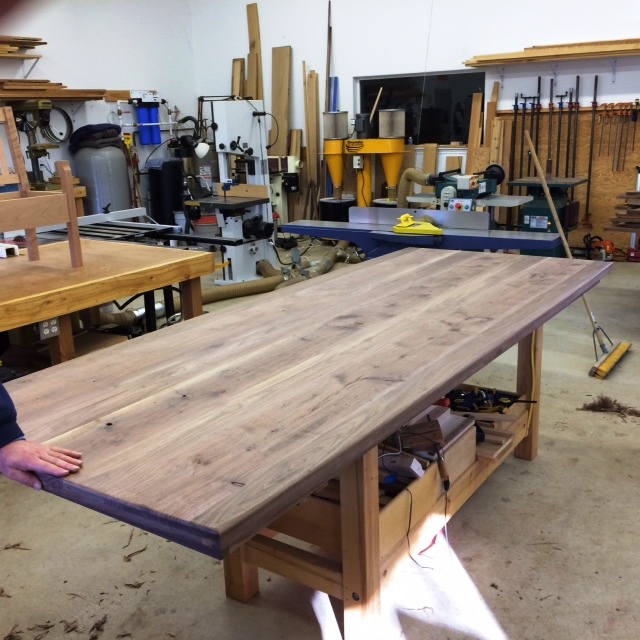 We also added another thickness of 4/4 walnut to the underside edge of the arc, as well as a 2" skirt of walnut on end. This gives the top the impression of a thicker construction. End pieces had to be attached with slots and screws to allow for seasonal wood movement.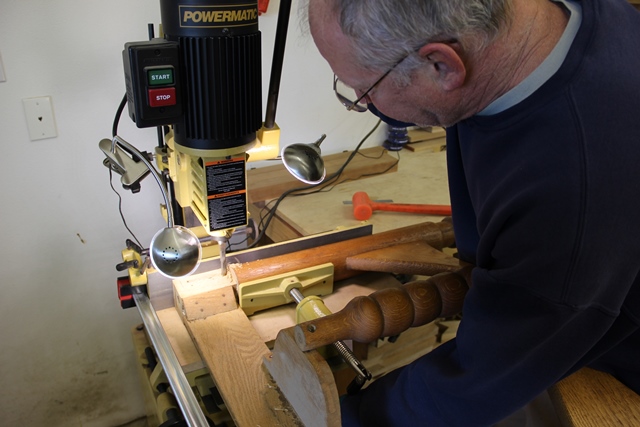 The table ends were modified by sawing away the existing short rails and adding new, enlarged mortises to the leg tops. Fortunately, where were no metal fastenings through the old mortises, so the new slots could just be drilled over the remains of the old ones.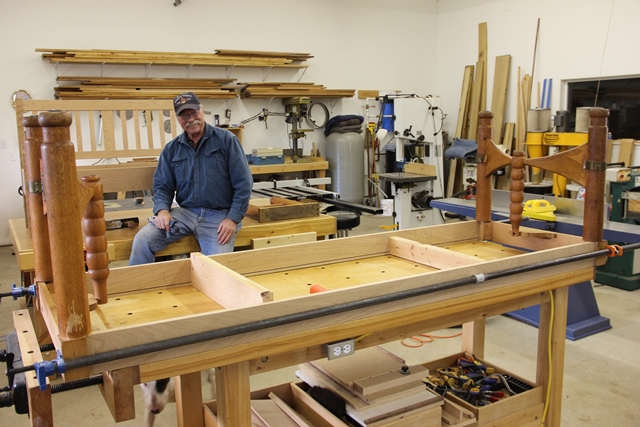 New rails of white oak, with large tenons milled on each end, were then attached to the leg ends. The existing center support legs will also be put into a bridge built into the middle of the base.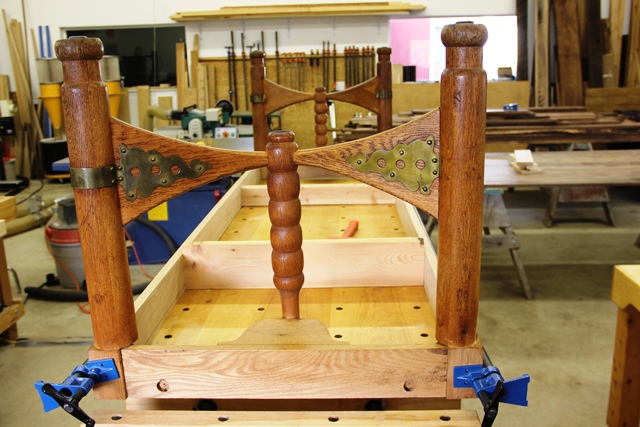 The existing end rails looked to be very strong and will be used unmodified.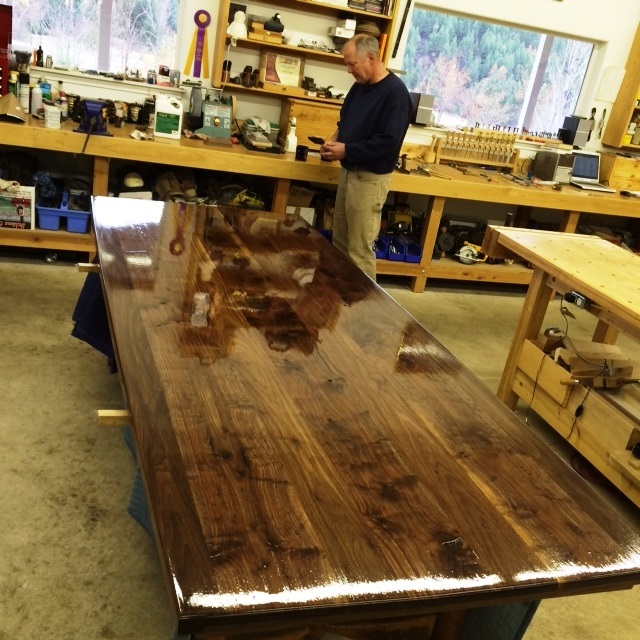 The top is finished with several coats of brush-on polyurethane, sanding with up to 400 paper between coats.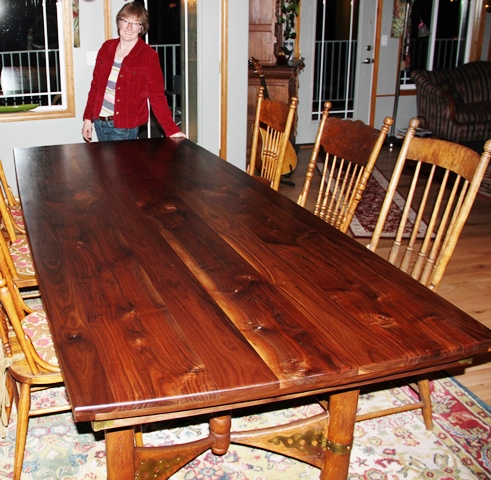 I admit to being skeptical on the mixing of the two wood species at first, but Claudia applied a dark stain to the oak base, which seems to work well with the walnut top.