A look at My Shop...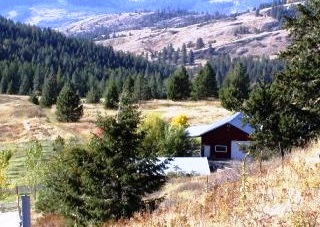 My shop is attached to our main building on the south side. It has a small but complete guest quarters (where we originally lived when first starting out here) on the west end that we use for our visitors and BnB. It is all connected to our main building through a hallway.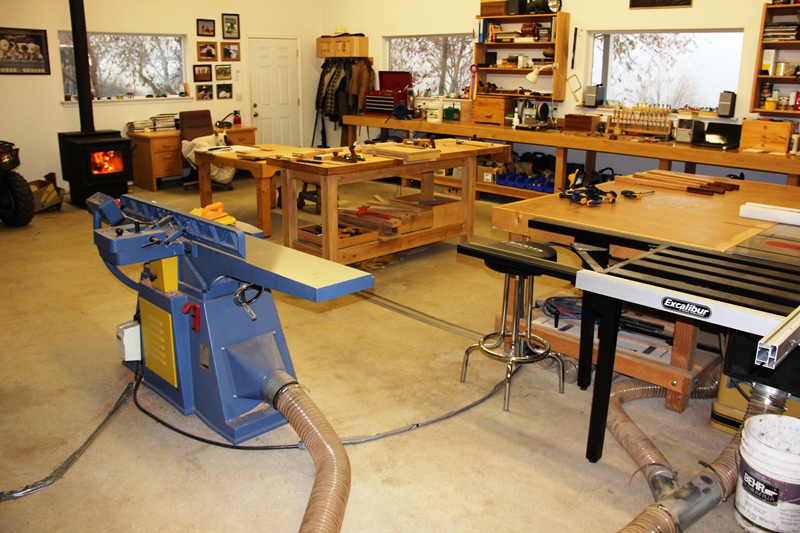 A woodworking shop is a very personalized place, as it should be. This is my third shop, and while still not perfect, it does correct some of the omissions and faults in my first efforts. First and foremost, a place where I'm going to be spending a lot of time concentrating on doing my best work needs to be well-lit, a comfortable temperature, and easy to move around in. With that in mind, I built this shop a little oversized at 28' x 36' w/12' ceilings, (I know, a bit of a luxury for some of us), with lots of light fixtures and windows. I also put numerous electrical outlets (both 110 and 220v) scattered at different levels throughout the building (even on the ceiling!) and on a number of different circuits. Extra insulation in the ceiling keeps the place a comfortable temperature on the dark winter days (I heat with a small wood stove) and yet a cool sanctuary in summer to escape to on hot days.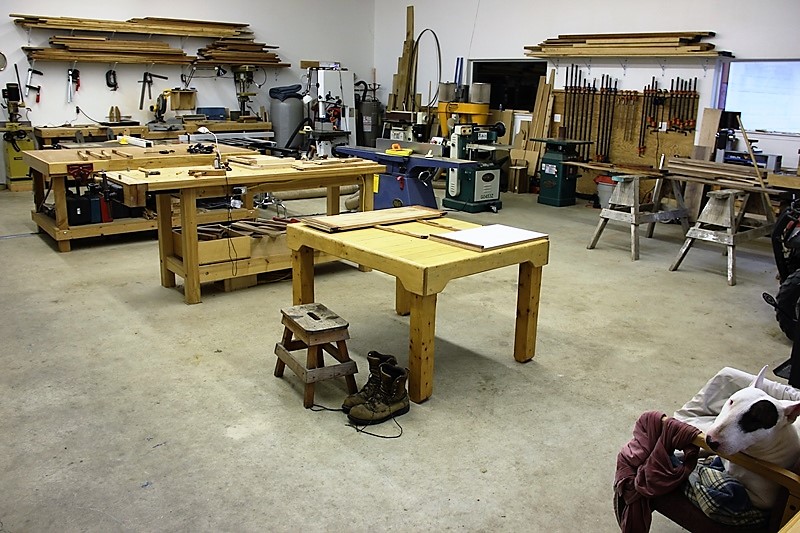 I've seen some very beautiful wood projects created in some very Spartan shop environments. On the other hand, sometimes the shop takes on a life of its own, with more time and effort put into perfecting the place than in the pieces that come out of the place. And I have no problem with that. Personally, I like to consider my shop as just another woodworking project--but an ongoing project that I know will never be completely finished. After putting the finishing touches on a long project, sometimes I'll stand back, look over my shop and think "now what did I learn from that process that I can now make some changes to my shop and maybe complete the next project more quickly, efficiently, and perhaps even a little more safely". And sometimes I even make a few of those adjustments, but mostly, I just rush right into the next project.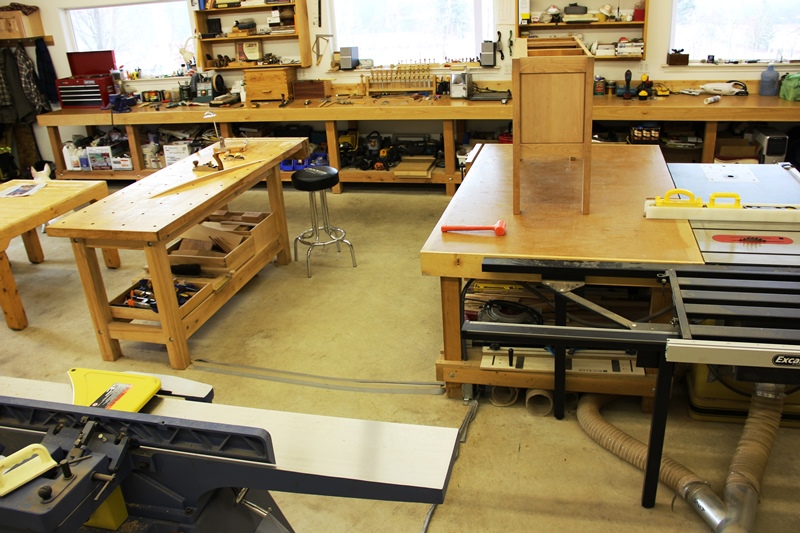 The focus of my work area is the triangle formed by table saw with large push out/assembly table on one corner, hand tool workbench on another and joiner/planer on the third. The hand tool workbench receives natural light from the adjacent window and also is convenient to the sharpening station. I tend to move parts back and forth -- from the large assembly table to the workbench for fine-tuning with hand tools and then back. I've tried various configurations and this seems to serve my purposes the best. It also gives me the convenience of having my most commonly used tools readily available, without having to carry stock all around the shop. All of the machines are connected to an Oneida Dust Collector. More on my tools can be found on my Tools Page.